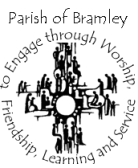 To engage with the people of Bramley; to share God's love for them, through worship, friendship, learning and service.

Email: Rector.
Start Course: Click on the poster to find out more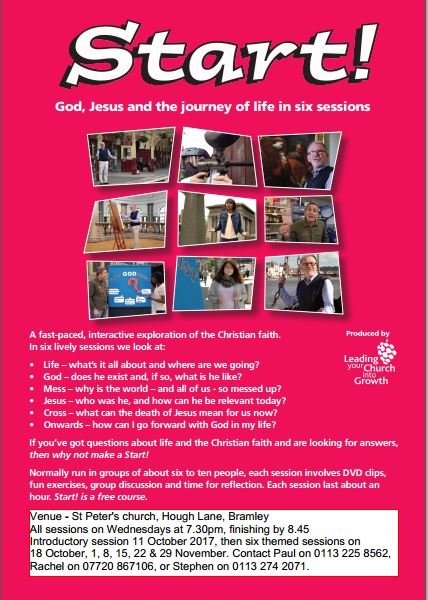 Lord God,
Creator and Father of us all,
who, in your Son Jesus Christ,
came alongside us, sharing our humanity,
and, through the Holy Spirit,
draws us closer to one another and to you.
we pray for all the people of Bramley
in their work and leisure,
their pleasure and pain,
that we may create a community
that welcomes all, supports those in need
and reflects the love that binds together
the three persons of the Trinity,
Father, Son, and Holy Spirit. Amen


Prayer for Growth

God of Mission
Who alone brings growth to your Church
Send your Holy Spirit to give vision to our planning,
wisdom to our actions and power to our witness.
Help our church to grow in numbers.
in spiritual commitment to you,
and in service to our local community,
through Jesus Christ our Lord. Amen
Wednesday

10.00 am Holy Communion this week in St. Margaret's Church, Newlay Lane
Next Week's Services
Sunday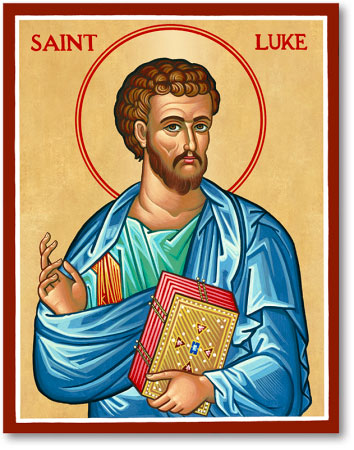 At 10.30 am in St. Margaret's Church, Newlay Lane
St. Luke - Healing and Wholeness.
At 6.00 pm in St. Margaret's Church, Newlay Lane
Memorial Service for the recently bereaved
Wednesday

10.00 am Holy Communion this week in St. Margaret's Church, Newlay Lane