Our Parish
Click on one of the pictures below to find out more about each of our church communities.
Calendar of events at St. Peter's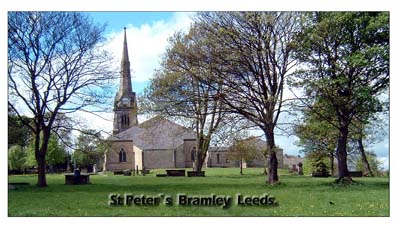 St. Peter's Church ,
Hough Lane
Calendar of events at St. Margaret's
SCHOOL PUPILS CELEBRATE CHURCH JUBILEE
A highlight of the recent 50th anniversary celebrations of the present church of St Margaret in Bramley Parish was the dedication of a magnificent banner, designed and made by the pupils of Form Five, Whitecote Primary School, Bramley. The banner was presented by pupils at a special service of celebration on 23rd November and was blessed by Bishop John. The banner has a border of hand cut-outs, each bearing the initials of a pupil involved in its creation. An inner circle of 'gingerbread' figures represents the colourful mix of the people of Bramley and in the centre is a felt picture of the church building. There were lots of moist eyes when two of the pupils explained how the banner had come about. This wonderful gift will hang permanently in the church as a reminder of the Jubilee and of the creative involvement of young people in the life of the church.