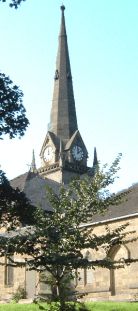 (above)
The place where we ring.
St. Peter's Church
Hough Lane
Bramley
Hand-bell ringers from 1952 in the Bridge Inn Kirkstall
during their Christmas concert.
Ringers include David Cox, Michael Cox and David Fenton.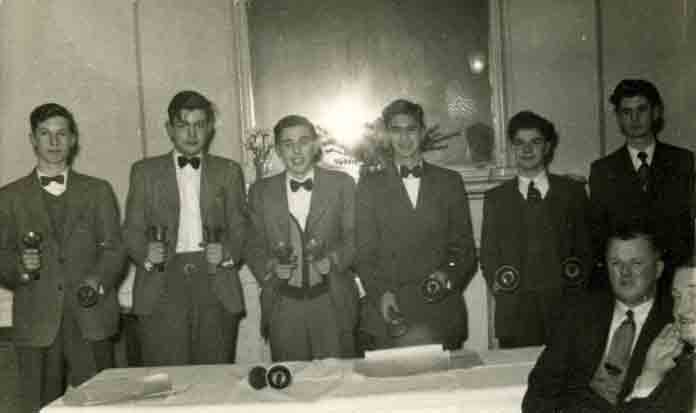 The steeple was repaired thanks to local fund raising and the Heritage Lottery Fund in 2010.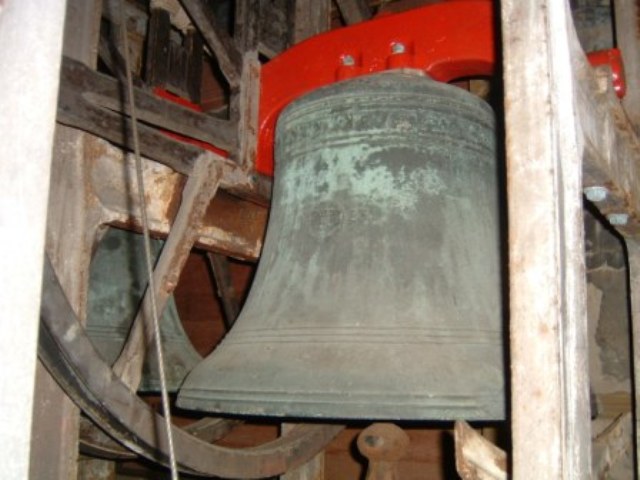 Change Ringing is part of the English Cultural Heritage.
Now's your chance to come and help preserve it!
(below)
When the rebuilding work took place in 1979, the church bells could not be rung. To keep the team together,
Dave Cox (extreme left) organised hand-bell ringing with
(left to right)Edward Turner, Ian Jorysz, Carol Kingston, Alison Reed, Catherine Holgate, Andrea Gorman and Ian Foster.
above
You can see the repaired and repainted headstock on the 5th. bell. The bells were re-cast in 1923 - when the tower was repaired and re-pointed.
Historic photo from 1957.
Click on photo to go to a larger image.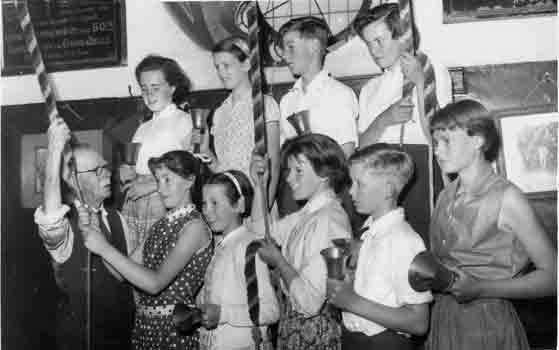 Young bellringers are being trained at St. Peter's Church Bramley, where because of a shortage in the team the bells have not been rung regularly for more than a year. Veteran bellringer, Sam Helliwell, aged 79, who has been aringer since 1900 is seen in this YE News picture instructing some of the young recruits. In front, left to right, are Mr Helliwell, Edna Midgley (14), Carolyn Spencer (12), Gwen Cox (13), John Brayshaw (12), and Carole Maudsley (13) Behind left to right are Valerie Pearson (13) Joyce Farrar (13), Frank Waterfield (15) and Josephine Cox(14)
Thanks to Frank Waterfield for this picture and newspaper cutting.
(above)
This is a picture of the 5th. bell with the broken headstock removed for re-casting.
(below)
Dave Cox inspecting the bells after re-attaching the ropes so that they can be rung again, following the extensive repair work.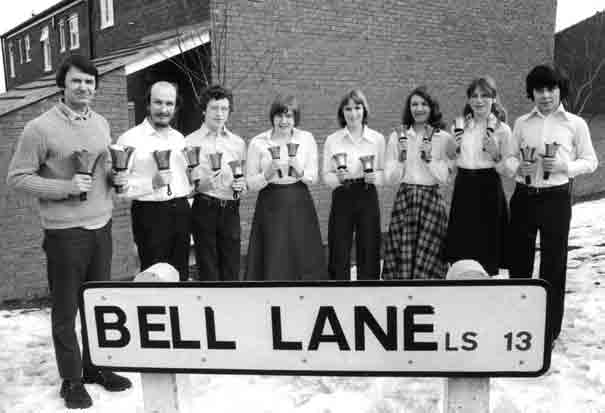 (right)
A photo of the ringers in 1960.
Left to right: Malcolm Shaw, John Brayshaw, Chris Milestone, Jackie Callaghan, Susan Wright.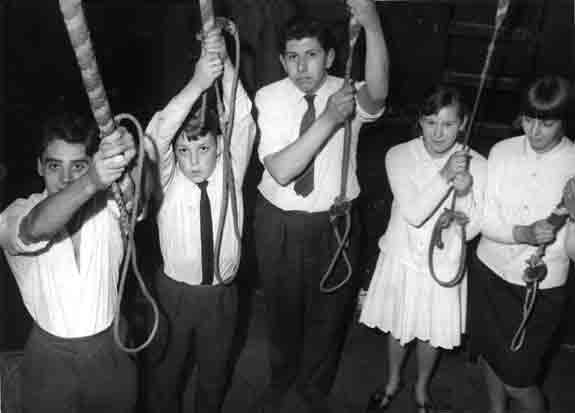 Email:
ringing@bramleyparish.org.uk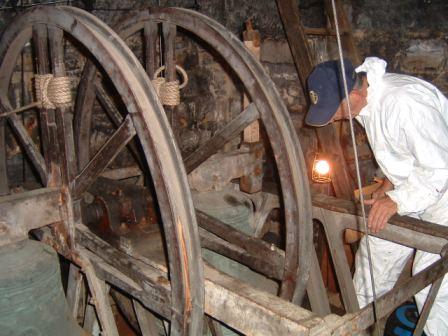 Call and see how we ring - no obligation.
Updated Friday 26th. February 2016