The Mothers' Union Prayer
Loving Lord,
We thank you for your love so freely given to us all.
We pray for families around the world.
Bless the work of the Mothers' Union
as we seek to share your love
through the encouragement, strengthening and support of marriage and family life.
Empowered by your Spirit, may we be united in prayer and worship,
and in love and service reach out as your hands across the world.
In Jesus' name.
Amen
Mothers' Union members hard at work serving refreshments.
Meetings
The Mothers' Union meets at St. Peter's Church twice each month, when speakers share with us their interests and experiences.
Click here to go to the list for 2016.
We hold social events to help fund the work of the Mothers' Union overseas and for the Holiday Home on the East Coast, which is available to families in need of a holiday.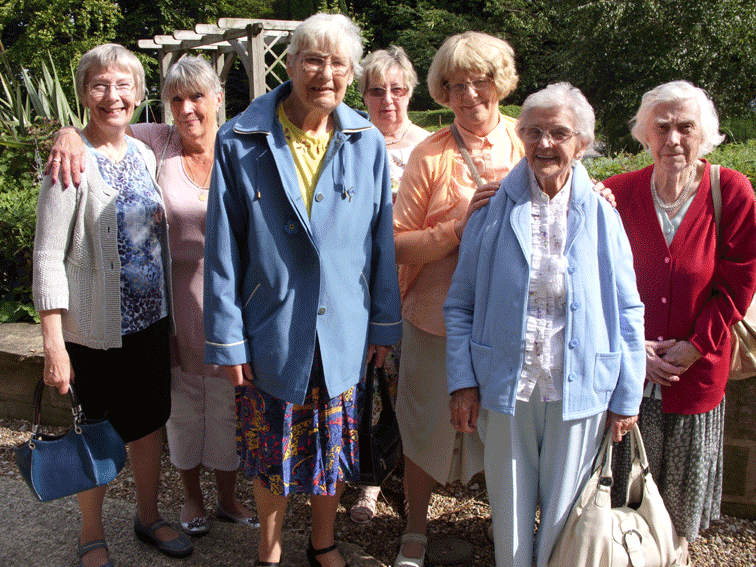 Some of the Mothers' Union outside the Calverley Arms after their dinner together.
What do we do?
We also carry out duties with the church. We hold prayer meetings, when we pray for all people who are suffering.
We are a small group with concern for each other but we would welcome anyone who would like to join us.

Margaret Beaumont, Branch Leader
Contact via Parish Office 0113-257 8590 or
Email for more information.

Link to Mothers' Union national website
Updated September 2016
Current campaigns
We are concerned about gender based violence and
have our campaign of 16 days against violence.
Click here for more information
Dementia care and correct provision is also an issue for us.
Michael Portillo will be talking at an event in Wakefield which will be raising funds for Admiral's Nurses.
Click here to view our poster.